HAIR TRANSPLANT
What is a FUE hair transplant?
FUE, or follicular unit extraction, hair transplant is a harvesting method of hair transplant surgery. Many consider FUE a minimally invasive method because a small "stab" is used to harvest single hair grafts one by one. The result is numerous round "circles" where the donor hair follicles are taken.
Pain and recovery of FUE harvesting is less than the traditional strip surgery and is more discomfort than pain. End result of the FUE harvesting method is single hair grafts taken one at a time.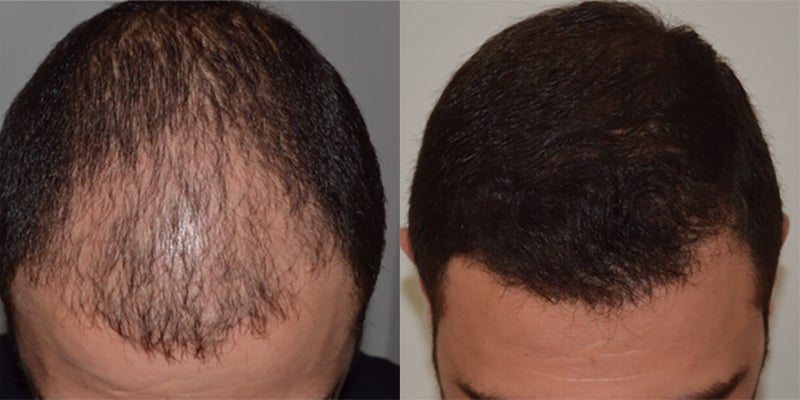 Photo courtesy of Dr. Matt Tahsini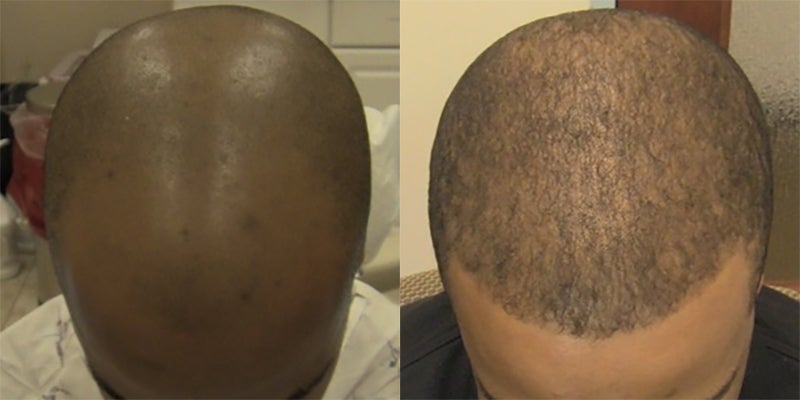 Photo courtesy of Dr. Michael Vories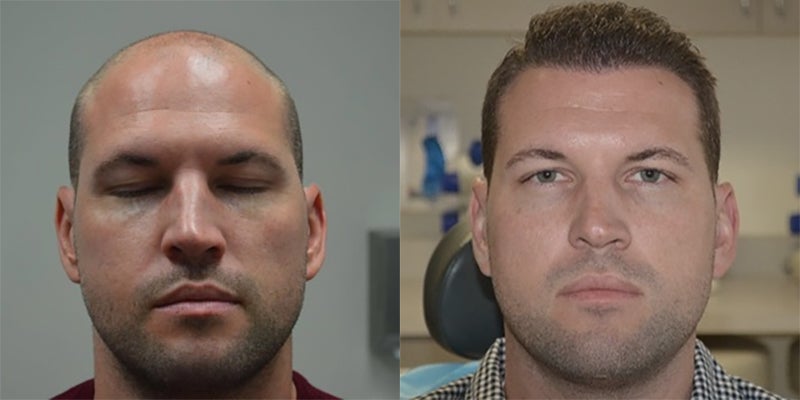 Photo courtesy of Dr. Matt Tahsini
*Treatment results may vary*
What is the difference between FUE an FUT hair transplant?
1. FUE provides faster recovery time
2. FUE leaves mini round scars vs long linear scars in FUT hair transplant
3. FUE offers greater selectivity for choice of hair
Is ARTAS robot more effective than FUE hair transplant?
The ARTAS robot may be advertised to have a lower hair wastage rate, but that is in comparison with the average doctors who may not specialize in FUE. Expert FUE surgeons can also harvest much faster than the robot saving precious hair follicle time out of body, which contribute to better growth.
FUE harvesting requires shaving the back and sides of your head for the surgery. A FUT surgery does not require one to shave their hair. If you have longer hair, the FUE procedure may not make sense since you would have to shave the donor area for the harvesting.
Most FUE candidates choose the procedure so that they can wear their hair short since the tiny scars are not apparent.
How much does it cost?
Every FUE hair transplant is unique to the patient's individual needs. Some might need a relatively minor hairline correction. Others may need a significant restoration. Many doctors charge based on the number of grafts required.
Who is suitable for hair transplant?
If you are interested in hair transplant surgery, the FUE harvesting method may be one of your primary considerations since it is advertised as a "no scar" surgery. While it's true the FUE technique won't leave you with a large linear scar, it can leave tiny round scars. If you shave your head, it's possible these tiny scars could be noticeable.
FUE is popular for people who want to wear their hair short, but FUE is often associated with more hair follicles wasted.
How can I prepare for hair transplant?
The donor area of your hair will need to be shaved or cut very short for the procedure. In some cases, that can be done in the office on the day of your surgery.
What happens on the day of the hair transplant?
If the hair in the donor area is too long, it might require a cut. Otherwise you'll likely be given a local anesthetic and put into "a very pleasant dream state," according to Dr. Rassman.
During the procedure you won't feel anything. Some patients sleep, others watch videos. We will discuss with you and determine level of new hairline. We have to shave the donor area hair short, to harvest the grafts one by one. Hair transplantation would cover all bald spot in one session of operation. Operation takes about 6-7 hours under local.
Hair transplant result would be natural. There will be no obvious scar or marks at the donor area neither at transplantation site.
What is the recovery time for hair transplant?
You should experience little, if any, pain. You can resume most normal activities three days after surgery. You may need to wait longer before resuming some activities like swimming.
Your doctor will give you specific instructions for washing and caring for your hair initially. You'll need to closely follow those instructions to ensure the best result.
Recovery is fast, but most patients are worried about their haircut as the hair needs to be shaved down to the skin in the donor area. It takes about 10 days for the donor zone to look fully healed.
What results can I expect?
When done correctly a hair transplant will leave you with a natural look and a recovered hairline.
What are the side effects or risks?
Side effects include swelling, pain, scalp numbness, and ingrown hairs.
Rare cases, risk of infection only "occurs in about 1% of patients."
What happens after your HAIR TRANSPLANT?
3 major time frames are to be noted.
Dormant period (0-4 months): The transplanted hairs may shed, so you will notice some hair loss. Typically no hair growth is seen at this time.
Emergent period ( 5-8 months): New hair starts to appear. For most patients 80% of the hairs emerge by 8 months. Hair over your crown can be the slowest to appear and will often be fine.
Maturation (8-12 months): Your new hair thickens. Curly haired patients may have curlier hair for a few months.